Welcome to Corbin Chiropractic
Your Reno Chiropractor
Convenient South Reno Location
Our office has been serving the chiropractic health care needs of patients for over 40 years. We are committed to offering superior chiropractic care to you and your loved ones and offer you the opportunity to visit our office or give us a call if you have any questions on how we can meet your health care needs for the achievement of:
Symptom and Pain Relief
Renewed Health and Vitality
Optimal Function and Performance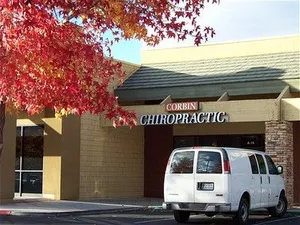 We understand that everyone has a unique set of needs and goals, as well as individual medical and physical conditions. We also understand that each person responds very differently to treatment. The care that you receive at our office will be tailored to meet your needs and desired outcomes. We will assist you in understanding the options we have available.
We offer solutions that lead to health and wellness in order to motivate you to take a more active and responsible role in restoring and maintaining your own health, as well as the health of the people around you.you, we incorporate a holistic approach to your health care needs. Traditional Chiropractic Care brings the majority of patients in to see us, and many take advantage of additional health care services that we offer. Besides exemplary structural and neurological care, we can assess and recommend nutritional and emotional support tools and techniques to increase the standards of health in all of these areas.
Dr. Corbin has brought years of natural health care experience and expertise to his patients since 1981, to create a first rate healing environment for you and your loved ones' benefit.
Call (775-852-8000) or email the office today to start your path to better health!
Dr. Bradley Corbin
Reno Chiropractor | Corbin Chiropractic | 775-852-8000
7111 South Virginia Street Suite A14
Reno, NV 89511
Proudly serving: Reno, South Reno, Northern Nevada, Truckee Meadows